Create professional CV online for free with multiple formats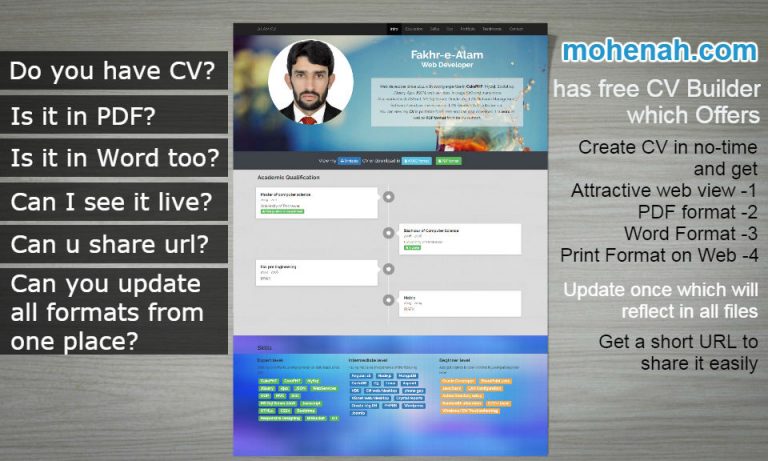 While looking for good job its obvious that you must have a good looking, attractive and professional CV or resume it will be better if you can put it online so that people can access updated information easily any time from any where.
Most of employers want you to apply for their job with CV in PDF format while some require you send CV in MS Word format, Some Employers want you to provide your online portfolio where your skills, and previous work is showcased.
MOHENAH is a new website recently launched in jan-2017 where you can create your professional CV once which will give you all the following features and facilities.
Easy dashboard to create and update CV in less time
Once you create CV, It will generate 4 formats of your CV

Attractive web view
Print ready view directly from web
Download same CV in PDF format
Download same CV in Word format

Mohenah Provide you a short URL (subdomain), So that your can share it easily
You will be able to make changes easily any time from any where even using mobile, and it will automatically reflect in all formats of your CV
Create profession CV online for free with multiple formats
Goto www.mohenah.com and click Register to create your account as below

Fill in your information at registration form and click register
It will send you an email to activate your account, check email and click activation link
Login with your email and password your have provided at registration
Once you are logged in you will be redirected to your Dashboard like the following snap, You can also reach to dashboard after login by click second menu at top.

Click Edit CV in dashboard
You will be redirected to CV Builder as shown below

Enter your information, and proceed to next steps
Must enter top 7 to 8 seactions from designation upto references, you can leave other sections blank
You can See your CV completeness status at right as shown below, try to complete your CV more than 90%

You can view your CV preview while editing it, Click Preview Web and keep on seeing changes in another tab of browser.
You can set your CV URL, a shorter and easy to remember, but to have this facility you have to refer a friend where your referred friend completes CV more than 50%, you will be able to set URL
There are a lot of other features and functionalities, explore it on yourself
Hope you will create your professional CV easily at mohenah.com its free, easy, user friendly, mobile compatible create your professional CV once and get relaxed for life time as mohenah.com will provide you facility to update it any time and you will be able to share it with other people by your URL, can download in multiple formats, can print any time any where. and most important as they are providing free services all companies will be able to search your CV and you may also got a good job without applying for a job. Mohenah will also expand it to a job portal in near future.
---
Video demonstration from registration to account activation to login to CV building and more